Download SU Podium V2.6 beta
SU Podium V2.5 and Podium Browser licenses will not work in V2.6
V2.6 Beta has no trial limitations and functions like a fully licensed commercial version of SU Podium, however Podium Browser will not be accessible without a V2.6 beta license. Please see below if you already own Podium Browser paid content:
How to obtain a working Podium V2.6 beta license
If you own a Podium Browser license and would like to test V2.6, you will need a temporary beta license to unlock Podium Browser. Contact support@cadalog-inc.com to request a V2.6.025 BETA license that will expire on June 15, 2019 PST, and please include both your Podium Browser serial number and SU Podium license key in the email.
If you own SU Podium V2.5 but do not own Podium Browser, please continue using V2.6 in trial mode — as mentioned, there are no trial limitatons and the beta will function like a fully activated version of SU Podium.
SU Podium v2.6.26 BETA for Windows - (new beta, June 15, 2019)
---
Uninstall SU Podium V2.6 Beta for Windows:
After Deactivating the license, manually uninstall.

Go to C:\ProgramData\SketchUp\SketchUp 201x\SketchUp\Plugins\SU_Podium_V26\SU_Podium_V26\ Delete all the SU_Podium_xx .rb files and folders, Podium Extra .rb file and folder and PodiumHDR folder.

If you Windows system is not displaying the ProgramData folder, make sure you change your Windows Explorer (File Explorer) view options to show hidden files and folders.
---
Uninstall SU Podium V2.6 Beta for Mac:
First Deactivate the license by opening the License Manager and select Deactivate License
After Deactivating the license, manually uninstall.

Manual method to uninstall V2.6 for SketchUp on the Mac. Go to Macintosh HD\Library\Application Support\SketchUp 201x\SketchUp\Plugins\ folder and remove this file or folder.

SU_Podium_V26xx.rb
PodiumExtras.rb
SU_Podium_V26 folder
PodiumHDR folder
Podium Extras folder

Macintosh HD folder is often referred to as the Global directory. It will be listed as one of your devices in Finder. If it is not listed in Finder, go to Finder Preferences, Sidebar and check Hard disks under Devices. You may need to go to the General icon in Finder Preferences and make sure Macintosh HD is listed in "New Finder windows show:"

Mac OS such as Mojave or High-Sierra, often critical files and folders are hidden. To unhide and display files and folders, Hold down Cmd + Shift + . (dot) Then open MacIntosh HD Library Application Support Sketchup 2019 SketchUp Plugins.
Licensing during the V2.6 beta period
1. SU Podium V2.6 beta has none of the usual trial limitations
Even in trial mode, V2.6 beta will function like a fully licensed commercial version of SU Podium, with no resolution restrictions. When the license manager pops up, simply close the window and Podium will proceed with rendering.
Note - The v2.6 Beta installer resets the SU Podium trial date.. So if you have tried the Podium free trial before, but would like to evaluate SU Podium again with the new features, installing the beta will allow you to do that. If you already own a Podium Browser license see below.
2. How to access Podium Browser if you own a paid content license
The only restriction when using V2.6 beta in trial mode is that Podium Browser paid content is not accessible without an active license. If you don't already own a Podium Browser license, continue using V2.6 in trial mode. If you already own Podium Browser and need access to paid content please continue below:
How to obtain a working Podium V2.6 beta license
Because Podium and Podium Browser now use a single license key, we can only issue temporary licenses to users who already own both SU Podium AND Podium Browser user. Contact support@cadalog-inc.com to request a 30 day beta license, and please include your Podium Browser license. This will give you access to all the new festures of V2.6, and allow you to access Podium Browser paid content.
New features in V2.6 beta
HDR image-based lighting - New lighting alternative for sun/sky.
Approx 40 additional HDRI backgrounds in Podium Browser.
Podium Browser will be fully included with SU Podium V2.6 license. Note on this below.
Podium render settings can now be saved with individual SketchUp scenes, improving batch rendering workflow among other benfits.
Added support for 32-bit HDR post-processing in PIE with "Adaptive linear tonemapping."
Multi-threaded Podium exporter - Processing scenes now uses all CPU cores/threads.
New set of presets for rendering to .HDR.
Additionally, v2.6 will be the active update path from now on, meaning a V2.6 license will be required for all future incremental Podium updates following this release.
Image-based lighting with HDR Backgrounds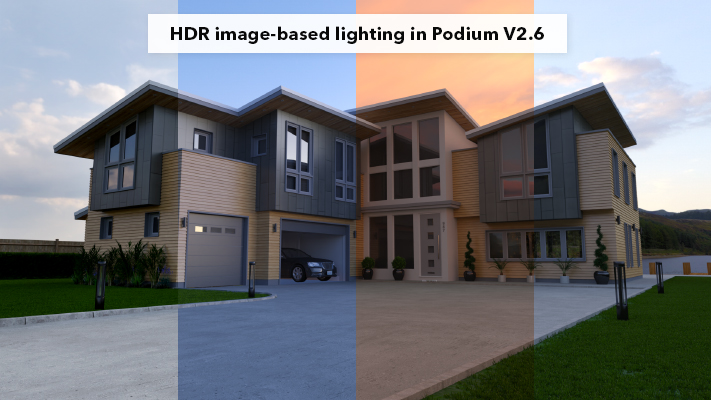 HDR image-based lighting (HDRI) is a versatile alternative to the two Podium skies, providing a fast, easy way to light your exterior images in a wide range of lighting conditions.
When HDRI lighting is active, the chosen HDR becomes an all-in-one solution for the sky, background, and natural lighting in your render. This streamlines the exterior rendering workflow and provides several advantages:
Realistic reflections due to 360° sky and background.
Never have to worry about adding a background in post-processing; shadows, exposure, and tonal quality always match.
Ability to quickly see your model in several lighting scenarios without any extra work. Switch from clear to cloudy, from morning, to afternoon, to sunset, simply by picking a different background.
Easy solution for product/studio rendering.
Changes to Podium Browser interface and licensing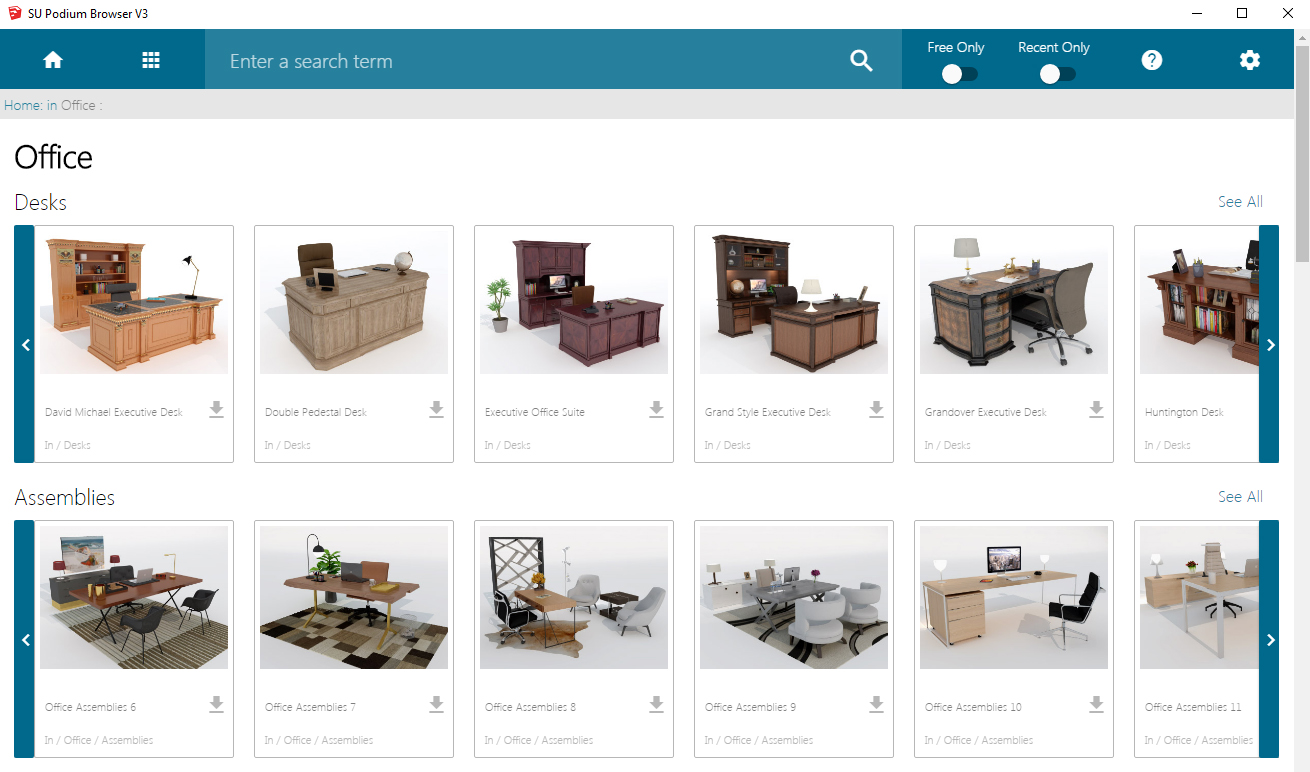 The Podium Browser interface has been refreshed to make the process of searching through categories and subcategories faster. Click and drag sliders let you scan an entire category quickly, and new sorting options let users view up to a hundred thumbnails at once.
Starting in SU Podium V2.6, full Podium Browser library will be included with SU Podium
This means that anyone awho owns a Podium V2.6 license will have access to the full library of 20,000 Podium Browser components (formerly $59). This also means there will need to be two upgrade "tiers" for SU Podium V2.6 with a reduced upgrade fee for users who already own a Podium Browser license. This will not take effect until Podium V2.6 is released commercially.
HDR in PIE - Adaptive Linear Tonemapping
SU Podium V2.6 makes it much easier for users to take advantage of an .HDR rendering workflow. There are two changes that make this possible.
A set of .HDR presets are now included by default in the V2.6 installation. These presets provide a better base for rendering to the .HDR image format.
Podium Image Editor now fully supports editing of .HDR images, and includes a new one-click HDR tonemapping option called "Adaptive linear." This is a histogram normalization function designed to fix exposure problems without losing your highlights and shadows.
By rendering to .HDR and selecting the adaptive tone map, a vastly underexposed render can easily be pulled into an acceptible luminance range while enhancing areas of local contrast. This provides a much better base for further post-processing and prevents the need to re-render an image that probably would not have been salvageable without the added robustness of the HDR format.
New .HDR Presets, Preview presets removed
Two changes have been made to the list of included render presets:
Preview presets removed - The preview presets were taken out of the base Podium installation. Although they were fast, we feel that the "preview" presets were too inaccurate and problematic to be truely useful for preview rendering. Our recommendation is to create test images with the "default" presets, which produce a more accurate representation of the lighting and quality you can expect to see in a finished Podium image.
HDR presets added - The HDR presets are meant to be used any time you are rendering with HDR as the selected output format. The HDR presets create an image with no inherent tone-mapping applied, under the assumption that users will post-process their images in either PIE or a third party image editor with 32-bit support (Photoshop, Lightroom, et al.). Rendering to HDR is only recommended if you plan on post-processing your render.
Multi-threaded Podium Exporter
Faster "Processing Scenes" - The Podium Exporter is now multi-threaded, meaning SU Podium V2.6 now uses all your CPU cores during the "Processing Scenes" stage of the render.

In past versions this was a single-core process, meaning a significant portion of your CPU resources were idle during this portion of the render.
While this will not speed up overall times dramatically, it does cut down the turnaround/iterative time for quick test renders, especially for large models with a lot of textures.
Save Podium options with individual Skp scenes
Podium will now remember specific render settings on a scene-by-scene basis within a single SketchUp model.
In the past, the Podium options dialog simply remembered the most recent settings for each parameter. This was problematic when batch-rendering several scenes in a complex SketchUp model, especially if the model contained a combination of interior and exterior scenes.
When creating a new SketchUp scene Podium now saves all your current render settings including preset, background, intensity/exposure, and every other parameter in the options dialog with that specific scene. This way when you switch between SketchUp scenes you won't have to re-configure your Podium settings after you've done it once.